Happy Friday!
I'm so happy to be participating in another edition of Ask Away Friday. It's such a fun way to get to know other bloggers! So, this week I'm teamed up with Melissa over at
Home On Deranged
. I just love her blog's tagline...your daily dose of crazy!
You can head over to
Melissa's page
to check out her answers to my questions. Here are her 10 questions for me with my answers...
1. Since you are a party planner, what kind of party would you want someone to organize for you?
Hmmm, I would love an outside dinner party complete with twinkling lights, beautiful flowers, delicious food and cocktails. A girl can dream, right?
2. How did you decide to become a blogger?
I've been reading blogs for years and it's something I always wanted to do. When I had my daughter and decided to stay home, I needed some sort of creative outlet and blogging was perfect! I love it!
3. How did having a child change your life?
Well, I quickly learned that my life wasn't about me anymore! My husband and I had to adapt to her after so many years of it just being the two of us. I'm not going to lie, it was really hard when she was a newborn. She has brought us amazing joy and we love our little family of three.
4. What would be your ideal vacation?
My ideal vacation would be staying at a beach front hotel and just reading on the beach or on a balcony.
5. What's the last movie you saw in a theater?
This is sad, I haven't been to a movie theater in a couple of years. Maybe it was Iron Man 2? I'm not a big movie theater person anymore.
6. What's one project/post you've created that you are most proud of? Please provide the link to it.
I think my favorite post is still my daughter's little
half birthday celebration
. It wasn't anything big but I tried to show how fun it is to have a little weeknight half birthday cake!
7. Where do you find the inspiration for all your new ideas?
I love to read magazines, I find them very inspiring! I also get inspired by browsing stores like Home Goods and Michaels. I'll see something interesting and usually the ideas start flowing.
8. What do you do when you find yourself less than organized?
Well that's a lot of the time! Usually I will take a few minutes to write out a To Do list and get my thoughts together.
9. If you didn't live in New York, where would you live?
If I didn't live in New York I would love to live in a smaller city like Philadelphia. Is that weird? I just always have loved that city. I love the history yet also the modern buildings and restaurants.
10. What ways are you using to teach your daughter to be creative like her mom?
She has a set of colored pencils that we draw together with and we also play with bright colored pom poms. Right now it's hard because she's still at the stage of putting everything in her mouth and trying to eat it! We also read a lot of books together.
It was so much fun swapping questions with Melissa!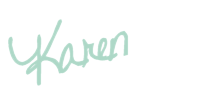 Keep Up With Karen's Soiree