Today I have another easy Party DIY for you! How many times have you seen pictures on Pinterest of these gorgeous dessert tables with backdrops as part of the decor? Well guess what? This is something that is totally do-able! It's really easy to create this ribbon backdrop pictured below, I swear! The only skill you need to know is how to tie a slip knot.
What you need:
Ribbon in colors of your choice (I used four colors)
Twine to hang your garland
Scissors
There really are no measurements that are standard to make this. You just need to figure out how long you want your garland to be. I cut my ribbons into long strips, doubled it and tied it to the twine using a slip knot. (The same knot used to make a tutu).
I tend to buy my ribbon at Michael's when I see that they have a great sale going on or I have a good coupon. I think it would also look great with different ribbon textures and patterns mixed in.
This is something that you really can't mess up! Get creative with it!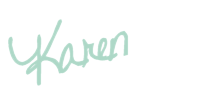 Keep Up With Karen's Soiree