Do you go out on Valentine's Day? I have to admit, that's the one night that I avoid restaurants. They are usually trying to pack everyone in and rush you out to seat the next group. I'm sure my husband and I will be celebrating at home, as we always do. Sometimes I even think about hosting a dinner party at home with my friends. This will have to wait until our children are older and we don't have to worry about toddlers running amuck!
Whenever I watch the movie "Julie & Julia", one of my favorite scenes is the Valentine's Dinner party hosted by Julia Child and her husband. It looks like such a fun gathering with homemade decorations, lots of wine and amazing food, of course!
So today, I'm putting together a Valentine's Dinner Party inspiration board with a fun sangria recipe I came across on Yum Sugar. Come on, who wouldn't love a dinner party where the signature cocktail is an X-rated Sangria?
I think the beauty of this party, as shown in the movie still above, is that most of the decorations are handmade. It's so easy to cut out some red hearts or string red paper chains and light some candles. And, of course, there's always stopping off at your local party store for some goodies!
Don't forget to head over to Krytsal's to check out her Valentine's ideas!
Did you get to enter the Valentine's giveaway yet? It's going on right HERE!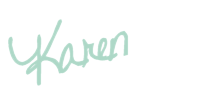 Keep Up With Karen's Soiree