To say that I'm done with this winter is a gross understatement! The constant snow, the freezing cold and the cabin fever are just getting old.
We Valentine'd, we've made the play dough and the cookies that are all over Pinterest, and we hit up every indoor play place and mall. Is Spring getting any closer??
I'm happy to be working on a very pink, very sparkly, very princess themed, first birthday party though! It's been so much fun channeling my "inner princess"!
And like a page in my favorite planner says, I'm so excited to "start something new". I will have more details on that very soon!
How has your February been?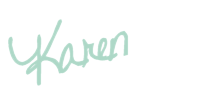 Keep Up With Karen's Soiree