Happy Friday! I really love our theme today on Soirees & Sangria because, as you can tell, I'm a crafty person! To me, crafting is like a stress reliever and I can get totally lost in it.
A craft themed party is a fun way to gather the girls, whether your crafty or not. You don't have to be a Martha Stewart type to throw this party or enjoy it! I picked a craft that's super easy, really inexpensive and is all over Pinterest right now. It's a design your own mug party!
I love this party because the supplies are so cheap. You can buy plain white mugs in bulk at any Dollar store or even order them online
HERE
.
Set out a bunch of Sharpie markers (I prefer the oil-based paint markers), pour your bottled sangria and you're party ready!
After the decorating is done, leave the mugs to dry completely. I recommend sending your guests home with the easy baking instructions (30 minutes at 350 degrees, being sure to put mug in oven before heating) to set their designs.
You can even add the option of decorating mugs to gift to each other at the end. Everyone loves a cute mug to sip their coffee or tea from!
Do you have a craft you love?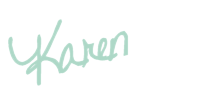 Keep Up With Karen's Soiree