One of my favorite things about Mardi Gras celebrations are the bright and colorful masks. I love the elaborate designs, the sequins, the glitter and, of course, the feathers! I thought I would combine my love of this party must have and crafting by showing a Mardi Gras Mask decorating party!
Masks/Masks/Sequins/Feathers/Glitter Glue
As you can tell, Krystal and I changed up our Soirees & Sangria graphic. We love our new, bright colors not only because Spring is on it's way but because it also coordinates with our new website!
Krystal started Sunny Soirees over a year ago and now we are joining forces and re-launching it together! We have amazing content planned, from party ideas to fashion and food. We're sharing our philosophy on living a bright life!
While the site isn't completely up and running yet (stay tuned for a virtual launch party!) you can follow us along on our new social media. We would love to see you there!
And for all you amazing bloggers, wedding planners & foodies, we plan on being contributor friendly!
Thank you so much to everyone that has supported my blog. I'm still going to be posting from here too, although I may be changing things up a bit!
Have a wonderful weekend!!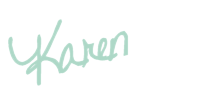 Keep Up With Karen's Soiree