Hello! I'm sorry I've been neglecting my blog over here as I've been busy working on content for the new

Sunny Soirees

! Today is our official launch date and I hope you'll stop by and check it out!
It has been so much fun collaborating with

Krystal

and I can't wait for everyone to see what we've been working on these past few months. Later today our first party post will be up, a St. Patrick's Day bash with a "Lucky" theme!
I'm guessing I will have to change things up around here since I will be posting tons of party stuff on Sunny Soirees. I'm still in the process of figuring out what direction to go in, content wise. I've thought about posting more "mommy" things but I never really set out to be a "mommy blogger". Don't get me wrong, I do love reading those types of blogs and a few have become my good "bloggy friends"! So, hopefully you'll stick around and see where this goes!
Starting out with some recent, random photos...
Some things I made for my niece's birthday party, glittery shamrocks, March Photo-a-day for Northeast Blogger Network (I'm already behind with it) and one sleepy toddler!
Enjoy the day!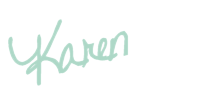 Keep Up With Karen's Soiree